1. ONE PIECE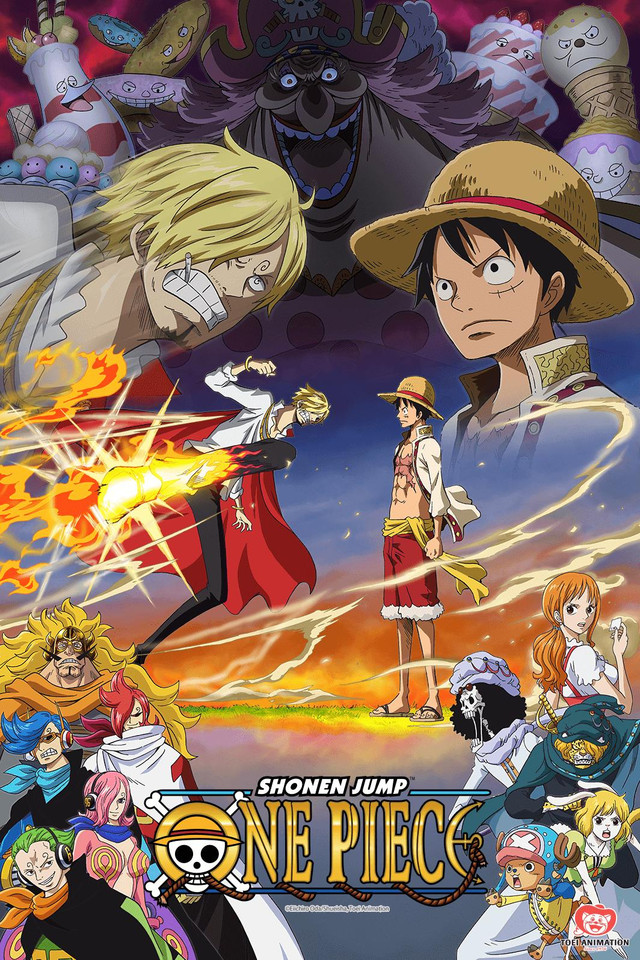 The man who had acquired everything in this world, the Pirate King, is Gol D. Roger. The final words he said at the execution tower were "My treasures? If you want it, I'll let you have it. Look for it; I left all of it at that place." These words sent many to the seas, chasing their dreams, headed toward the Grand Line, in search of One Piece. And a new age began!
Seeking to be the greatest pirate in the world, young Monkey D. Luffy, endowed with stretching powers from the legendary gum-gum devil's fruit, travels toward the Grand Line in search of One Piece, the greatest treasure in the world. Along with comrades in arms Roronoa Zoro (the swordsman), Usopp (the sharp shooter), Nami (the navigator), Sanji (the cook), Chopper (the doctor), Nico Robin (an Archeologist), Franky (a shipwright), and Brook (the musician/skeleton) comic adventures mix with true heroism in the time of great naval battles.
2. NARUTO
On the day of Naruto Uzamaki's birth the village of Konoha was attacked by the 9-tailed fox demon. In order to protect the village Naruto's father the 4th hokage sacrificed his like and sealed the demon in his new born son. 13 years later Naruto graduates the ninja academy and becomes a shinobi with goal to be the hokage of the village. Joining him are rival Sasuke Uchiha who attempts to gain power to avenge his clan after they were murdered by his older brother Itachi. And Sakura Haruno who is Naruto's love interest who of course loves his rival Sasuke. But when itachi returns to the village after the chunnin exams and Sasuke proves to be powerless against him. Sasuke will fall to the villainous Orochimaru to gain power. Naruto must do everything in his power to stop his friend from loosing himself to darkness even if it means losing himself.
3. BOKU NO HERO ACADEMIA (MY HERO ACADEMIA)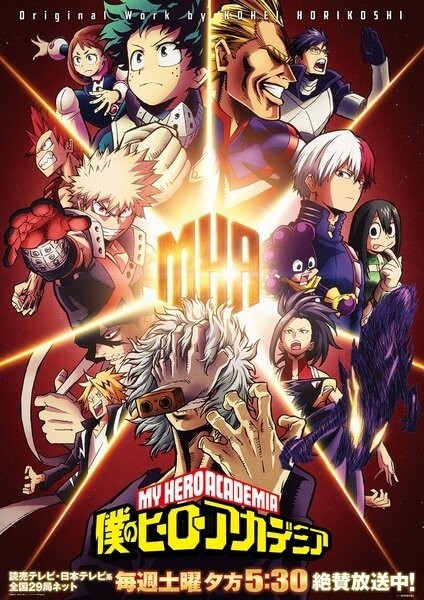 One day long ago a luminescent baby was born with a unique power. Then, as time passed, the similar phenomena happened all over the world, and soon most of the population had obtained superhuman powers—known as "Quirks". Due to that, people could pursue heroism as a profession. Some time ago, a younger Izuku Midoriya stands up to Katsuki Bakugo to defend another child from being bullied. Katsuki doesn't take "Deku" seriously and mocks him for being Quirkless and attempting to play hero.
Back to present time, a now 14-year-old Izuku watches as Heroes battle an enormous villain. Born without special powers in a world where 80% of the population has them, Izuku Midoriya still dreams to become a hero. An unexpected encounter with the legendary hero All Might gives him a chance to change his fate, but first he must master his newly-acquired Quirk which he inherited from All Might to pass U.A.'s entrance exam.
4. NANATSU NO TAIZAI (SEVEN DEADLY SINS)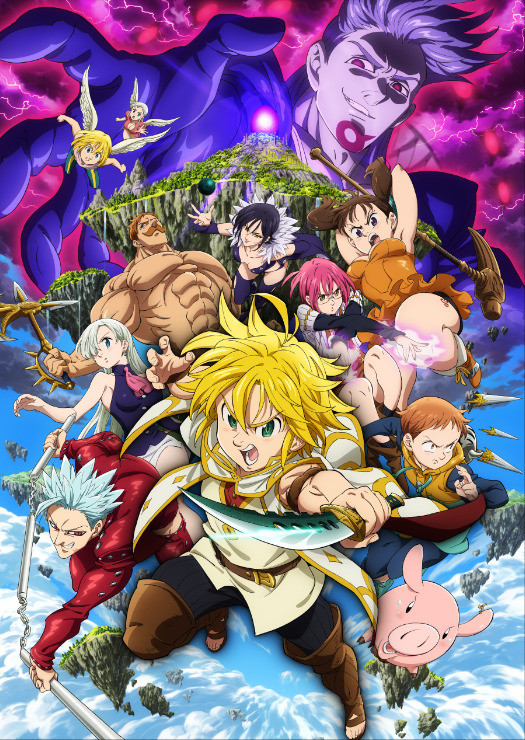 The Seven Deadly Sins were once an active group of knights in the region of Britannia, who disbanded after they supposedly plotted to overthrow the Liones Kingdom. Their supposed defeat came at the hands of the Holy Knights, but rumors continued to persist that they were still alive. Ten years later, the Holy Knights staged a coup d'état and captured the king, becoming the new, tyrannical rulers of the kingdom. The third princess, Elizabeth, then starts out on a journey to find the Seven Deadly Sins and enlist their help in taking back the kingdom.
5. KIMI NO NA WA (YOUR NAME)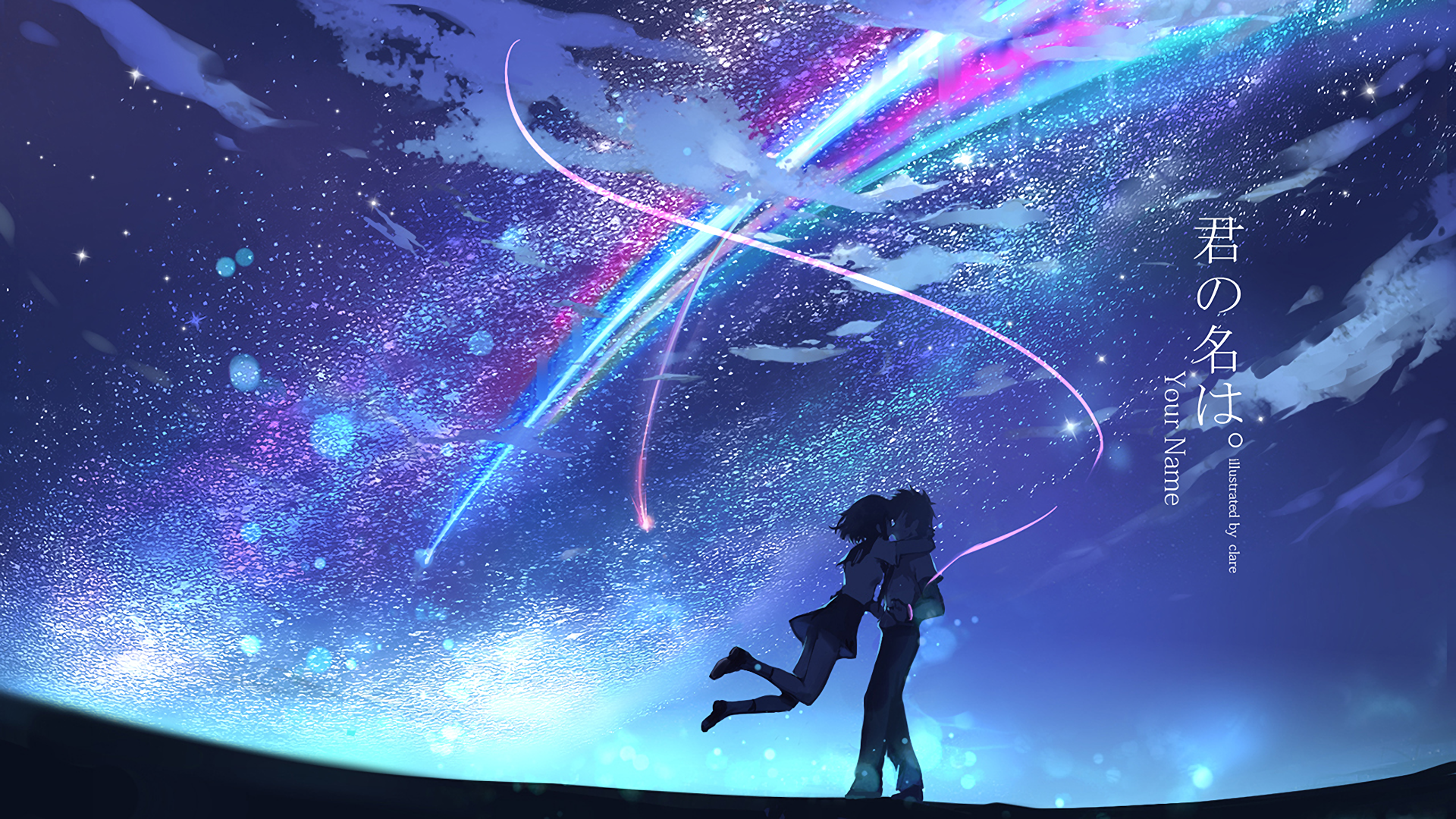 From director Makoto Shinkai, the innovative mind behind Voices of a Distant Star and 5 Centimeters Per Second, comes a beautiful masterpiece about time, the thread of fate, and the hearts of two young souls. The day the stars fell, two lives changed forever. High-schoolers Mitsuha and Taki are complete strangers living separate lives. But one night, they suddenly switch places. Mitsuha wakes up in Taki's body, and he in hers. This bizarre occurrence continues to happen randomly, and the two must adjust their lives around each other. Yet, somehow, it works. They build a connection and communicate by leaving notes, messages, and more importantly, an imprint. When a dazzling comet lights up the night's sky, something shifts, and they seek each other out wanting something more – a chance to finally meet. But try as they might, something more daunting than distance prevents them. Is the string of fate between Mitsuha and Taki strong enough to bring them together, or will forces outside their control leave them forever separated?
6 . SHIGATSU WA KIMI NO USO (YOUR LIE IN APRIL)
Piano prodigy Arima Kousei dominated the competition and all child musicians knew his name. But after his mother, who was also his instructor, passed away, he had a mental breakdown while performing at a recital that resulted in him no longer being able to hear the sound of his piano even though his hearing was perfectly fine. Even two years later, Kousei hasn't touched the piano and views the world in monotone, and without any flair or color. He was content at living out his life with his good friends Tsubaki and Watari until, one day, a girl changed everything. Miyazono Kaori is a pretty, free spirited violinist whose playing style reflects her personality. Kaori helps Kousei return to the music world and show that it should be free and mold breaking unlike the structured and rigid style Kousei was used to.
7. ANOHANA: THE FLOWER WE SAW THAT DAY
On the surface, Anohana is the story of Menma, a girl who dies in an accident, then returns as a ghost to haunt her best friend, Jintan, five years later. The problem is, neither Menma or Jintan know why she has returned. The two are quick to latch on to the "unfinished business" school of thought and decide that they need to grant Menma's wish to get her into heaven. Of course, neither of them have any idea what this wish could be.
Thus the story is ostensibly about them trying to figure out Menma's wish and fulfill it. Of course, this is made all the more difficult by the fact that only Jintan can see Menma. Soon the two of them are forced to involve their old friends—who have drifted far apart over the five-year gap—and reopen many of the old wounds surrounding the events of Menma's death.
8. BLACK CLOVER
Asta and Yuno were abandoned together at the same church and have been inseparable since. As children, they promised that they would compete against each other to see who would become the next Emperor Magus. However, as they grew up, some differences between them became plain. Yuno was a genius with magic, with amazing power and control, while Asta could not use magic at all, and tried to make up for his lack by training physically. When they received their Grimoires at age 15, Yuno got a spectacular book with a four-leaf clover (most people receive a three-leaf-clover), while Asta received nothing at all. However, when Yuno was threatened, the truth about Asta's power was revealed, he received a five-leaf clover Grimoire, a "black clover". Now the two friends are heading out in the world, both seeking the same goal.
9. SHOKUGEKI NO SOMA (FOOD WARS)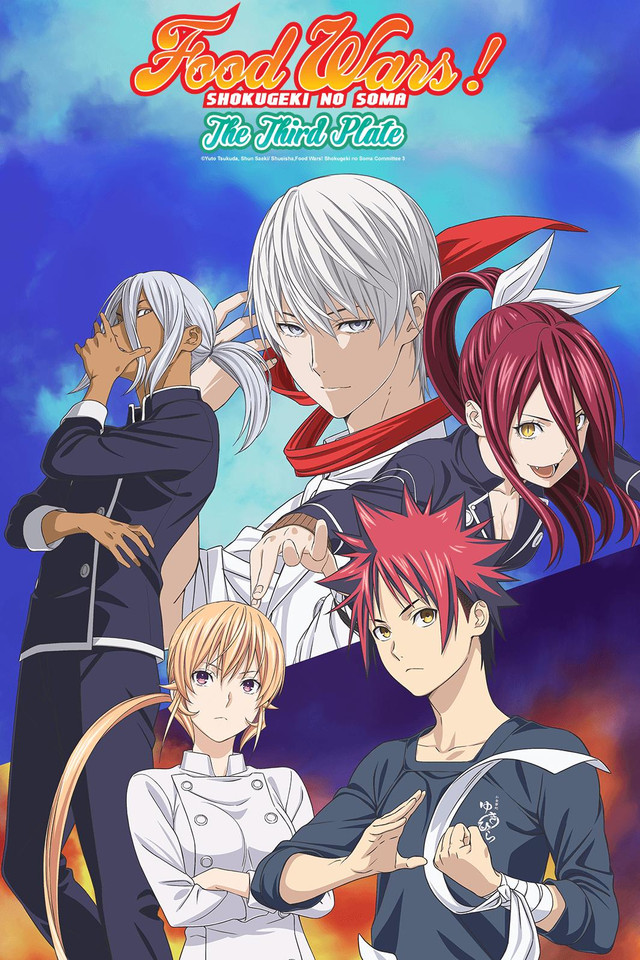 Yukihira Soma is a teen with a great enthusiasm for cooking. He dreams of surpassing his father, a great chef and restaurant owner, and so attends Totsuki Culinary Academy, a legendary and formidable cooking school for the greatest teenage chefs in Japan.
10. SHINGEKI NO KYOJIN (ATTACK ON TITAN)
After years living in fear, humanity protect themselves with huge walls to protect themselves from the titans, giant humanoids that feeds on humans. When suddenly a huge Titan breaches the wall allowing a horde of Titans enters the city and attack them. A boy named Eren decided to save his city and wipe out the entire titan race
(SOURCES)